Thank you for making our July 2018 Joyce Theater appearances with
The Ashley Bouder Project a sellout and critical success.
Stay tuned for plans for our 2019 activities.

---
Thank you for supporting our James Reese Europe WWI Centennial June 8 at Symphony Space, with
previews in May at the Intrepid Museum and upstate NY.

---
Here's what else we've done since 2015.

| | | | |
| --- | --- | --- | --- |
| November 2015: Artistic director Ron Wasserman's monumental evening-length suite "The Four Seasons of NY Jazz" Special guest Christina Pato. | | | January 2016. World premieres by associate director Miho Hazama, and special guest artist Jim McNeely. Also a premiere of a new version of her award winning "Somnambulant" with the addition of a classical oboe part, performed by special guest Randall Wolfgang. |
---
| | | | |
| --- | --- | --- | --- |
| March 2016: Commissioned world premiere by JP Jofre. "To Fred With Love" Also a new arrangement of JP's "Universe" by Ron Wasserman. Lara St. John also joined us as soloist. | | | May 2016, Andrew Litton joined us as pianist in new arrangements of his Oscar Peterson Tribute. World-premiere of our commissioned Four-Composer John Coltrane, "After Coltrane" tribute. Contributions by by Bernard Hoffer, Jeremy Howard Beck, Courtney Bryan, and Rufus Reid. |
---
June 2016: Big band favorites at the Washington Square Music Festival, with the world-premiere of music legend Fred Hellerman's "Fourths of July." Also a premiere of a new arrangement of Piazzolla's "Michelangelo 70"

---
January 2017, our subset, the Trad-Jazz Sextet recorded our first CD. New arrangements of music of Jelly Roll Morton, Scott Joplin, James Reese Europe and other early American masters. Also a few originals by artistic director Ron Wasserman

All copies distributed as thank you gifts for donations to our 501c3 tax deductible organization. There will be no "sales."

A minimum $20 donation towards its production (button below) secures a thank you copy.

---
Please follow us on our new Instagram account: nyjazzharmonic_official
---
---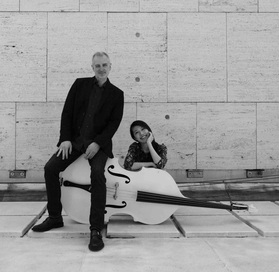 The New York Jazzharmonic
Ron Wasserman, artistic director
Miho Hazama, associate director

Ron Wasserman says, "As a New York musician, I've been very lucky over the last 25+ years to have had a full time job at Lincoln Center in the NYC Ballet orchestra. I am forming this band in part to help other deserving musicians, who, these days, can find it more and more of a struggle to carve out an artistic life. I'm hoping that with critical and audience interest, we can create a world class institution that will offer an important affiliation to these 17 players as they live out their careers."
---
---
---
---
---