Presenting our 2018 season.
A World War One Centennial tribute concert to James Reese Europe
and the Harlem Hellfighters.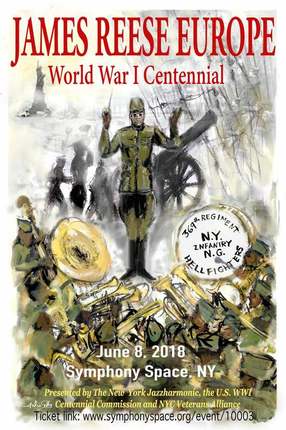 ---
---

Also appearing as accompanying orchestra for the Ashley Bouder (dance) Project for the second year.
July 2-5, 2018 at the Joyce Theater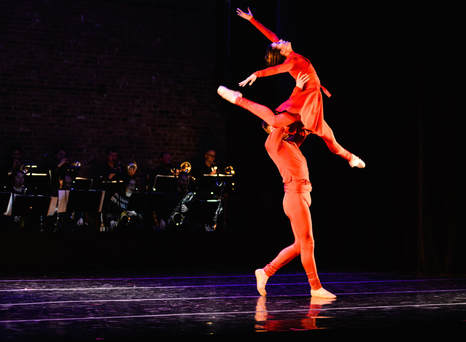 Ashley Hod (lifted by Devin Alberda) in the world premiere of Ashley Bouder and Miho Hazama's "In Pursuit Of" photo credit Diana Mino
Click Here to Support the Ashley Bouder Project.
---
Here's what else we've done since 2015.

| | | | |
| --- | --- | --- | --- |
| November 2015: Artistic director Ron Wasserman's monumental evening-length suite "The Four Seasons of NY Jazz" Special guest Christina Pato. | | | January 2016. World premieres by associate director Miho Hazama, and special guest artist Jim McNeely. Also a premiere of a new version of her award winning "Somnambulant" with the addition of a classical oboe part, performed by special guest Randall Wolfgang. |
---
| | | | |
| --- | --- | --- | --- |
| March 2016: Commissioned world premiere by JP Jofre. "To Fred With Love" Also a new arrangement of JP's "Universe" by Ron Wasserman. Lara St. John also joined us as soloist. | | | May 2016, Andrew Litton joined us as pianist in new arrangements of his Oscar Peterson Tribute. World-premiere of our commissioned Four-Composer John Coltrane, "After Coltrane" tribute. Contributions by by Bernard Hoffer, Jeremy Howard Beck, Courtney Bryan, and Rufus Reid. |
---
June 2016: Big band favorites at the Washington Square Music Festival, with the world-premiere of music legend Fred Hellerman's "Fourths of July." Also a premiere of a new arrangement of Piazzolla's "Michelangelo 70"

---
January 2017, our subset, the Trad-Jazz Sextet recorded our first CD. New arrangements of music of Jelly Roll Morton, Scott Joplin, James Reese Europe and other early American masters. Also a few originals by artistic director Ron Wasserman

All copies distributed as thank you gifts for donations to our 501c3 tax deductible organization. There will be no "sales."

A minimum $20 donation towards its production (button below) secures a thank you copy.

---
Please follow us on our new Instagram account: nyjazzharmonic_official
---
---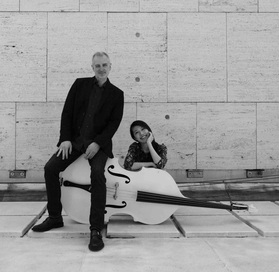 The New York Jazzharmonic
Ron Wasserman, artistic director
Miho Hazama, associate director

Ron Wasserman says, "As a New York musician, I've been very lucky over the last 25+ years to have had a full time job at Lincoln Center in the NYC Ballet orchestra. I am forming this band in part to help other deserving musicians, who, these days, can find it more and more of a struggle to carve out an artistic life. I'm hoping that with critical and audience interest, we can create a world class institution that will offer an important affiliation to these 17 players as they live out their careers."
---
---
---
---
---